The overall operation of the extraordinary administration, as well as the settlement process attracted a significant interest of the media and the public. The extraordinary administration on regular basis and transparently communicates with the media. This section contains some of the numerous publications in the press.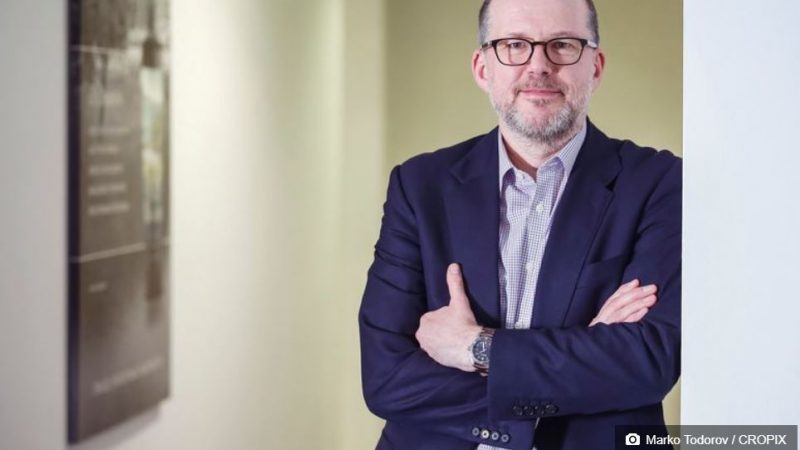 Executive Director of AlixPartners And Main Restructuring Adviser: 'There Is Not Much Time Left To Save Agrokor But I Believe In Success'
11. Feb 2018.
published in: Jutarnji List, by Viktor Vresnik, 10 February 2018
Whoever visited old Agrokor, at Cibona's Tower in the center of Zagreb, will immediately experience the gravity of the upcoming changes in the Spartan business building in the industrial zone Žitnjak, where today's company is headquartered. "Get upstairs on the first floor, then turn left," the uniformed porter told us when we arrived. There was no security check, escort to the lifts, strictly controlled passageways … Alastair Beveridge, one of the executive directors of AlixPartners, London, in Zagreb, met us in a small conference hall with hot espresso and largely pre-prepared responses. However, there is still enough time to supplement and talk in four eyes, as well as for later alignment of content with the London headquarters company. There was, however, no intervention at the end.
In less than three months, it will be one year since you started advising Agrokor. How would you summarize that period?
This was still a very difficult time in the company because during the restructuring of people under great pressure, Agrokor is extremely present in the media and at the same time have to carry out everyday tasks. Many of them are concerned about the future. I have been working personally for such a job for a long time, but Agrokor's employees have never undergone restructuring. This is the first time for them and it is not pleasant for them. Despite that, we really make progress. The situation in Agrokor is of great importance for Croatia, which is partly the reason why we are here. There was a strong desire and strong support from the Government for this process to succeed, precisely because of its significance for the Croatian economy.
 They have designed and implemented a new law to ensure that a systemically significant company survives under tremendous financial pressure. Although we are not ready to work in Agrokor, the fact is that this legal framework has given us the chance to succeed. When I think about comparable projects, I think of a project in Bahrain, it was a deadly bank and fraud. It took more than 8 years to reach the point where the owner, who had been caught in the money, could have been prosecuted. The word was over $ 2.5 billion and it was a very slow process. Here, you have a law designed to maximally shorten the restructuring process. Twelve months is a very short time.
 Are you satisfied with the pace of restructuring?
Restructuring is very complex and is currently the largest in Europe. It is incredibly important for Croatia and the region and we have a multitude of stakeholders who want to resolve this situation as soon as possible. The Law on Extraordinary Administration prescribes a one-year period and we continue to work accordingly. If the various circumstances do not distract attention from the core business, we believe that we can accomplish this goal within that time.
What outcome do you expect when the restructuring process is completed?
As we announced in December 2017, we expect the restructuring to result in creditors taking over ownership of the group entirely. For all companies, it will be important to get out of the emergency management procedure as soon as possible, which will undoubtedly take time for management to be able to return to normal business and enable those companies within the group that market leaders succeed. Many of these companies have real prospects for growth, have ambitions and they are expected to be in the future, once the settlement is over and things return to normal, they create jobs in the region.
Do you see all parts of Agrokor after a settlement under the same roof?
I think creditors, who would then be the owners of the company, could sell some minor, non-core activities. The group will have a more adequate amount of debt that will need to be serviced, so new owners may want to sell some of its parts. I think if they want to sell any of these businesses, they will have a lot of interest for them. Perhaps Agrokor's story put Croatia in the focus of interest for the wrong reasons, but fortunately, if we succeed, that interest may become very positive. If the restructuring succeeds, the investors will return. If we finish in time, it will be one of the fastest complex restructuring ever made in Europe.
Do you still believe that you can do it on time?
Time is definitely short, but the whole team is focused on achieving the deadline. Today we have talked to some creditors and they, like us, want us to do all in time.
Do you think creditors and suppliers will be satisfied with the outcome?
 In order for the settlement to be approved, we need the support of two-thirds majority of creditors for the value of the claim. The peers are the ones who make the final settlement decision and the outcome will be in accordance with their decision. The nature of any restructuring is such that the value of a business is less than the creditor's claim – effectively, the group is insolvent and it is inevitable that everyone will want more.
However, it is really important to keep in mind that the only alternative is to settle bankruptcy, which would not bring any benefit to anyone. Every restructuring requires patience, understanding and cooperation. I am confident that we will achieve the best possible outcome for all stakeholders under the unique and very complex circumstances of this situation.
 What will happen if Agrokor, creditors and suppliers fail to reach an agreement? Is there any other possibility except bankruptcy? Can Todorić get Agrokor back?
The law says the only option, if there is no settlement, is bankruptcy. I do not think there is any possibility for the owner to return and take over the business.
Hypothetically, what would Todorić find somewhere?
 Well, if he finds six billion euros, hypothetically, the company is again his. I do not think that's possible because he could have found the money somewhere, so far he would have done it. As far as I know, he has never said he can do it. Of course, the current owner says the company is in good condition, but we know it is not. The company is insolvent, its value is less than the obligation and cannot survive without restructuring. In the end, creditors will be business owners. Share capital, owned by Mr Todorić, is worthless. I can understand that he does not like him, but that's the reality.
Have you ever met personally with Mr. Todoric or talked to him?
No, I never talked to him or met him, though he readily comments on me and the company I work with.
His future destiny, whether to be extradited or not, is in no sense relevant to Agrokor?
No. It can be important for the country of Croatia, but not for Agrokor. Since after the extradition hearing, as far as I know of any outcome, there may be appeals, I can easily imagine that this process will last for some time. But this is not in our focus, we are focused on the settlement. That's our job.
 How many people will be employed in Agrokor and its companies after restructuring?
We do not expect real changes in the period until the settlement. However, many companies have real prospects for growth and ambition and would expect to open jobs in the future in the region when the deal is over and things return to normal.
None of your actions goes without a political response. Are you surprised by so much political pressure?
Agrokor was the largest company in the country, a new law was needed to resolve the situation appropriately because it was a systemically significant company and it was clear that the process would have a very high profile of interest. In other situations we have dealt with, for example in Lithuania, Ukraine and Puerto Rico, we have faced similar challenges because of the importance of the situation for the country. Since finding a good solution to the systemic problems of this nature in the public interest, it is not surprising that politicians are focused on Agrokor.
Are these political obstacles slowing you down?
We are advancing, but the volume and scale of exposure to the media distract people who are working on restructuring.
Were you aware that your choice of Tex as a subcontractor could be a trigger for the avalanche of attacks – both political and public?
We are aware of the growing interest of a restructuring team supporting a consulting team. Our goal at first was to gather the best and most cost-effective team to do the job. In all such cases we have been working on before, and there were many, it was appropriate to have a team of international consultants with the close support of local high quality professionals who are usually always cheaper than comparable international experts working on the project . Their skills are most interested in any of our subcontractors.
How did you engage Texo the same day you signed a contract with Agrokor?
As you probably know, we have a small number of subcontractors who help us with this project and they are an integral part of our team. Since their engagement was linked to the restructuring of Agrokor, it was possible to finalize the conditions only when it was clear that Agrokor agreed with our terms and conditions, AlixPartners. So we signed these contracts shortly after we signed our own contract, and the subcontractors started working at the same time as my company, April 25, 2017.
How did you define the cost of Texo's consulting services? Have you previously analyzed the fees of other consultants – foreign and Croatian?
As you are sure, AlixPartners has no office in Croatia and has been brought to provide international experience and expertise in the project. We felt that we would be able to really achieve the project goals with the support of local experts. On the first days of the extraordinary administration of the local company Texo Management, Alter's Counseling and Communication Office Colić, Laco and Partners have already assisted the company and an extraordinary trustee in overcoming this most critical period of extraordinary administration.
 At that time none of these companies had formally hired Agrokor, but they worked well and understood the problem very well. We certainly needed local support and after we checked their references, we offered them the opportunity to become part of our restructuring team. Similarly, an extraordinary trustee also hired international investment advisors Houlihan Lokey and Legal Advisers Kirkland & Ellis, who were already working for Agrokor at the time when the extraordinary trustee took over the management. It is often important to keep professionals who are already familiar with the project if you have the opportunity to do so.
 Local consultants who are eventually engaged have a significant relevant experience to support the process. It comes from education at Harvard and Bocconi universities, through long-standing work in renowned international companies such as JP Morgan, Morgan Stanley, Deutsche Bank and Lazard, and includes experience in practice on restructuring projects. One clear advantage of this approach is lower compensation to local consultants that are in line with the local market and have made our joint approach more cost-effective, more favorable for Agrokor.
 It's a bit confusing by your company name. It reads AlixPartners Ukraine. Where does this Ukrainian part come from?
 I know it's a bit confusing, but that was not an intent. Our company is called AlixPartners and is headquartered in the United States. Since our British team spends a lot of time in Croatia, and between Croatia and Great Britain it is not possible to move employees freely, we realized that we have to establish a branch in Croatia so that our people can pay taxes in Croatia and comply with all Croatian regulations. Therefore, the sole purpose of establishing a branch of an existing British company in Croatia was that we could pay all taxes in Croatia and comply with the law. When we started the project, it was not immediately clear that it would need to establish a branch and we switched the contract to AlixPartners Ukraine when it became clear.
 Therefore, AlixPartners Ukraine is based in the UK and has two subsidiaries. The first one was opened in Ukraine in 2016, when we started working on one project there, and now, when there was a need for opening a branch in Croatia, which was necessary in order to pay all taxes in Croatia, the branch was founded by our company from Great Britain, which meets the circumstances I have described, has the name of Ukraine. So, for practical reasons, we use the same company here in Croatia because it would not make sense to create another one just to have a Croatian branch. In order to avoid any misunderstanding, let me repeat – it's a British company that has a Ukrainian branch, and now it's also Croatian. When we work on projects in other countries, we take great care to stick to all the rules and regulations that apply in these countries.
 Severe political pressure could rupture Ante Ramljak. Would this endanger the restructuring process? Is it possible that you leave Agrokor before the work is completed?
 This would absolutely jeopardize the process, Ante is an integral part of the success that we have already achieved in the period of extraordinary administration, is fully committed to all aspects of the Group's business and is actively working toward the draft settlement. You must not forget that last April the entire group was on the verge of collapse and the bankruptcy was very likely, which would be catastrophic for the shareholders and for the country. A large amount of work was done in order to stabilize the business, and raised 530 million euros of additional new funding and we are all working towards a successful settlement. It all happened under the supervision of Ante. We intend to complete the work for which we are engaged to carry it out, but we cannot predict what obstacles can be found on our way.